Roll out the love this Valentine's Day with these delicious dessert recipes. Fun to bake and easy to share, these Valentine's desserts are the perfect way to show affection.

Easy Chocolate Strawberry Cupcakes
We've turned the tried and true Valentine's treat, Chocolate Covered Strawberries, into an easy and darling cupcake that is irresistible to all. Check out how you can recreate these tantalizing treats for your Valentine here.

Candy Coated Marshmallows
Perfect for Valentine's Day parties, these darling treats are so simple, but so adorable. Smitten with sweetness and a whole lot of fun, they're sure to be a hit. Click here to recreate these Candy Coated Marshmallows for your celebration.

Valentine's Day Popcorn
Not only is this Valentine's recipe easy to make, it's also the perfect treat for all ages! Who doesn't love popcorn with a sweet twist? Grab a romantic comedy or another favorite movie and this delicious Valentine's Day Popcorn recipe for a fun night in.

Chocolate Covered Strawberry Hearts
Impress your special someone this Valentine's Day with this decadent dessert recipe that is sure to make their heart throb. Click here to recreate this festive flourish on a traditional favorite.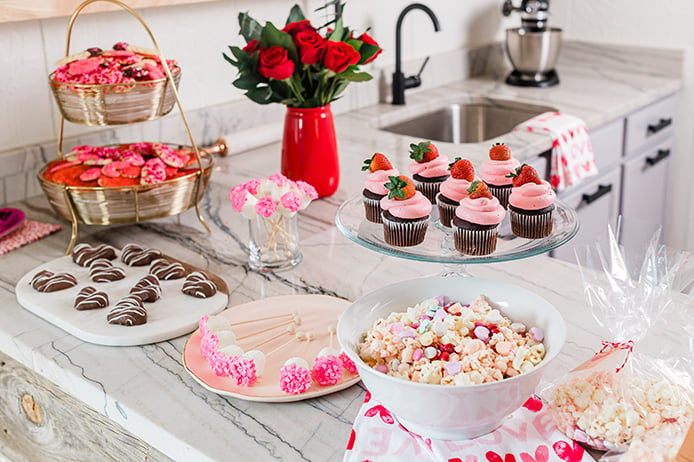 Shop Valentine's Day
Shop online for your Valentine's Day favorites or plan your trip to an Albertsons Market near you.
Looking for some Valentine's Day Themed dinner recipes to go along with dessert? Check out our Easy Valentine's Day Dinner Recipes blog!