As the weather outside becomes more frightful, a cup of hot chocolate is all it takes to make it more delightful. Treat your guests to a delicious treat this holiday season by creating a festive hot chocolate station. Whether you want to set it up as a party starter or as a fun dessert bar, we guarantee empty mugs and smiles all around.
__________________________________________________________
Step 1: Setup Your Station
Start off your hot chocolate bar by choosing a festive board to place your cups or mugs, hot water dispenser, and toppings. In addition to decorating your station, the board will also help catch any spills or rogue toppings that fall out of the bowls, making cleanup simple and easy.
Click here to download our FREE hot cocoa board map!
Step 2: Choose Merry Mugs
Have you heard the phrase "hug in a mug"? The hot chocolate and toppings may bring the excitement, but the mug is what pulls it all together! Select some festive mugs for your station and place them next to your board for people to grab as they please. Be sure to have enough for everyone! For a more vintage vibe, mix and match your coffee cups. For a more polished look, consider solid, white or red mugs.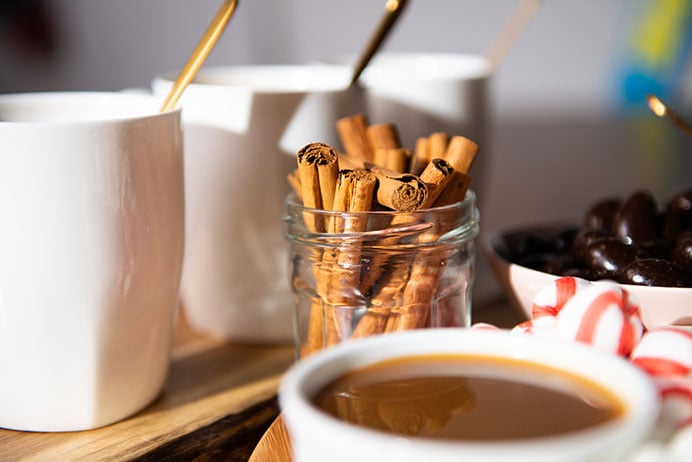 Step 3: Load Up On Toppings
If it's sweet and festive, then there's room for it at your station. Fill small bowls with different types of candy, toppings, snacks, and plenty of whipped cream to make your hot chocolate station flavorful and oh-so Instagram-able. We recommend taking a peek down our bulk and candy aisles for the following:
Whipped Cream
Marshmallows
Coconut Shavings
Mini Marshmallows
Mini Candy Canes
Crushed candy canes
Caramel Candy
Pink and white marshmallow twists
Cinnamon Sticks
Mini Chocolate Chips
Chocolate covered almonds or peanuts
Yogurt covered pretzels
And don't forget the sprinkles!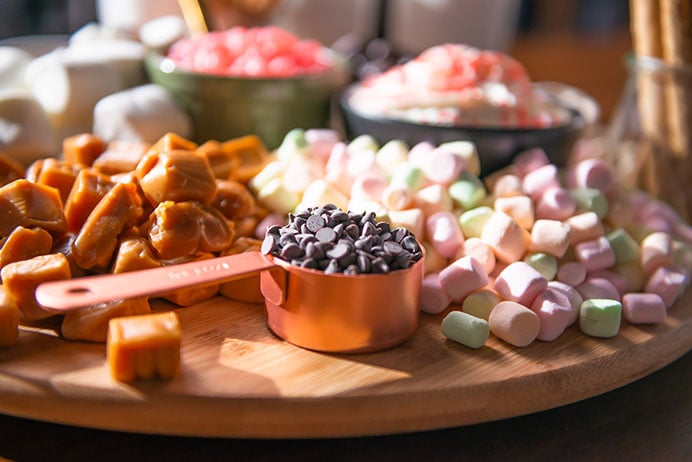 Step 4: Don't Skip the Drizzle
Finish off your hot chocolate station by setting out a few toppers for your guests to drizzle over their mugs. We recommend the following:
Caramel Sauce
Chocolate Sauce
Strawberry Sauce
Cinnamon Sugar
Step 5: Set Out the Sweet Stuff
Last but not least, you need the hot chocolate! Add your hot cocoa powder to a festive jar or bowl, or pre-pour the powder it into your mugs to make the station easy for your guests to do themselves.
Holiday Pro-Tip: If you're hosting an adults-only party, set out a few of your favorite liquors to give your station a deliciously boozy twist that will put everyone in the holiday spirit!

Shop the Holidays
Let's make some Christmas magic. Shop online for your staples, reserve your holiday dinner, or plan your trip to a United Supermarkets near you.